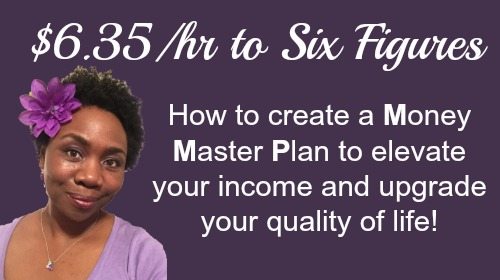 Now that is the million dollar question everybody is asking, right? Well let me tell you, I learned how to go from minimum wage to six figures over a period of time. It was an interesting journey that I believe anyone can take with a plan.
So how do you do it? You do it by having a plan of action and actually taking that action until you reach your goal. That's it in a nutshell. As easy or simple as it sounds, believe me it is not an easy journey and not for lazy or scary people.
My Single Mom Minimum Wage to Six Figures Story
I did it with my two kids, a full-time job, classes and homework, and a ton of determination. There were times I wanted to quit. There are days I cried and felt like giving up. Sometimes there were even people who tried to stop me. I even got distracted and off course for a little while, but I would not give up.
I went from working at the Probate Office in the county courthouse for the then minimum wage of $6.35/hr to a temporary job for $8.00 at AFLAC. Then I was hired full-time with benefits at $10.00/hr. My journey took me back to college after 10 years with a 6-month old and a four year old to a new city. My pay dropped to $8.50/hr working for the college then went up to $12/hr part time as an intern at NASA.
I was then hired as a full-time contract technical writer making $17/hr. Within a year I was promoted to Sr. technical writer and received a raise to $20/hr. From there I went to other companies and made $27/hr, $32/hr, $45/hr, to $50+/hr. As my skills and experience increased so did my income. I went from court clerk to SharePoint Corporate Trainer. None of what I'm sharing is to brag but it's to show you that my hard work, prayers, and determination made the difference.
Even though I am a single mom it has never kept me from going after my dream. Maybe part of it is that I've always been an over achiever, but it's mostly that I did not and would not let my circumstances or other people dictate my life and financial future. I decided what I wanted to do and I did it because I had two amazing kids keeping me motivated.
Dreams, Goals, & Plans are Key
You simply cannot give up on your dreams. You have to turn those dreams into goals. You have to create a plan. I'm not saying it has to be perfect but it has to at least drive you toward something better.
My process for going from $6.35 an hour to six figures was not a cut and dry path. I did not have a blueprint or cheatsheet. The truth is I had to piece together several parts to get to where I wanted to be. I can share those pieces with you but it's up to you to take them and apply them to your life. In the end, it will probably look nothing like my journey.
Get the Puzzle Pieces Here
If you want to get the pieces to my puzzle you can join, enroll, or grab my $6.35 to Six Figures Master Class. In it I share how to create a Money Master Plan to elevate your income and upgrade your quality of life! There is no magic bullet but I can say my methods are sound and will help you along this financial journey.