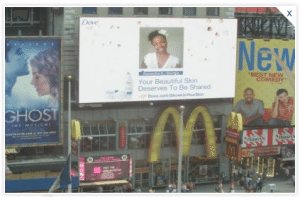 I am a big fan of Dove Moisturizing Body Wash so I'm on their mailing list for coupons. I got an email about a month ago inviting me to be a part of their Show Me Your Skin Campaign. I would be a part of the living ad. I followed the link to their website where I could upload my photo. It was pretty easy. I just had to tell what product I loved and why then enter my first name and last initial. They would let me know when my picture was on the website.
My picture would also be shown on the Dove big screen in Times Square. This was going to be interesting and exciting. They said they'd send a snapshot when my picture was displayed on the screen. It took two or three weeks for the email to arrive telling me I was seen in Times Square. I clicked the link and sure enough there I was. I was famous! I finally got my 15 min…er, 15 seconds of fame, LOL! It doesn't matter because my beautiful skin was on display for all the world to see.
I love this campaign because it features "normal" women from all walks of life. I'm a happy camper and will continue to support Dove by buying their products. They make the ordinary woman feel extraordinary through their campaigns. The message they are sending is every woman is perfect the way they are. There is no need to feel you have to be a skinny model to be acceptable.
Two thumbs up to Dove!