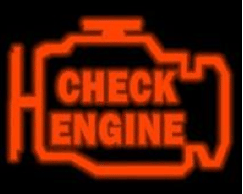 The other day my check engine light came on in my care. I hate when that happens and it causes me to have a slight panic attack. The thought of having to take it to a mechanic was annoying because they always seem to find a million other things wrong with my car (this includes oil change places).
My dad is a mechanic but he lives two hours away and can always run to my rescue. Telling him that my check engine light is on is not helpful either because he can actually look at my car. But he did tell me a long time ago to take it to the auto parts place. Whether it's Auto Zone, Auto Advance, or mostly any other auto parts place. They off a free diagnostic test if your check engine light comes on.
They have a little machine they plug into your car that will read the computer. The computer tells the machine what's wrong by displaying a code. The machine will also tell you in plain English (mostly) what that problem could be. In the past the check engine light on my car came on because the gas cap was not on tightly enough. Recently it came on because the oil pressure valve was stuck.
Being able to get this kind of information for free is very empowering for me because I am not at the mercy of an unscrupulous mechanic that will try to sell me a load of B.S. about what's wrong with my car. So I'm armed with knowledge about my car and can tell the mechanic exactly what I want fixed. It's good to get two or three parts and repair estimates because the price of repair can vary widely.
Speaking of getting estimates, if you have an iPhone or iPod touch you can get the RepairPal app. You put in your vehicle's year, make, and model and the problem. The app will give you an estimate of the repair cost (includes parts and labor) as well as tell you what repair shops are near you.
If you feel you need more information (like I do most times) check out a user forum. Search the name of your vehicle and the word forum. Or you might search the words of your problem plus the type of vehicle and the word forum [car issue + make of car + forum]. For example your search words would look something like,  "check engine light Ford Escape forum".
You can find a wealth of information online and by asking questions. Use it to your advantage.
Get recommendations from people you trust and from review sites when you are looking for an auto repair center. Most of all, don't let the fact that you are a woman keep you from being knowledgeable about your care and insisting on fair prices. Do not allow people to talk or scare you into getting services you don't need or can't afford at the time.
I have car horror stories that maybe I'll get around to sharing with you someday, but in the meantime remember, to be forewarned is to be forearmed. Knowledge is your friend and like the book of Proverbs in the bible says, "In all your getting, get wisdom"! That includes wisdom about your car.
Do you have a favorite mechanic? What are your horror stories?