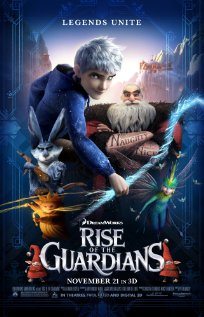 The kids and I had the opportunity to see a screening of Rise of the Guardians. It's a story about all your favorite fairy tales and your worst nightmares. Don't let that last part scare you though because the Guardians, lead by Santa handle business.
Here is the blurb from Dreamsworks Studios, the film company:
When an evil spirit known as Pitch lays down the gauntlet to take over the world, the immortal Guardians must join forces for the first time to protect the hopes, beliefs and imagination of children all over the world. Written by DreamWorks Animation
The movie was action from start to finished and the kids (okay me too) were absolutely amazed with it. The plot was interesting through out and the humor was excellent. I usually avoid watching movies in 3D but this time the 3D was worth it.
Who knew the Easter Bunny has an accent and Santa is from Russia (I think). My favorite character by far was the Sandman. He's got mad skills and will keep you on your toes.
Rise of the Guardians is definitely a must see on Nov. 21st. You will not be disappointed.