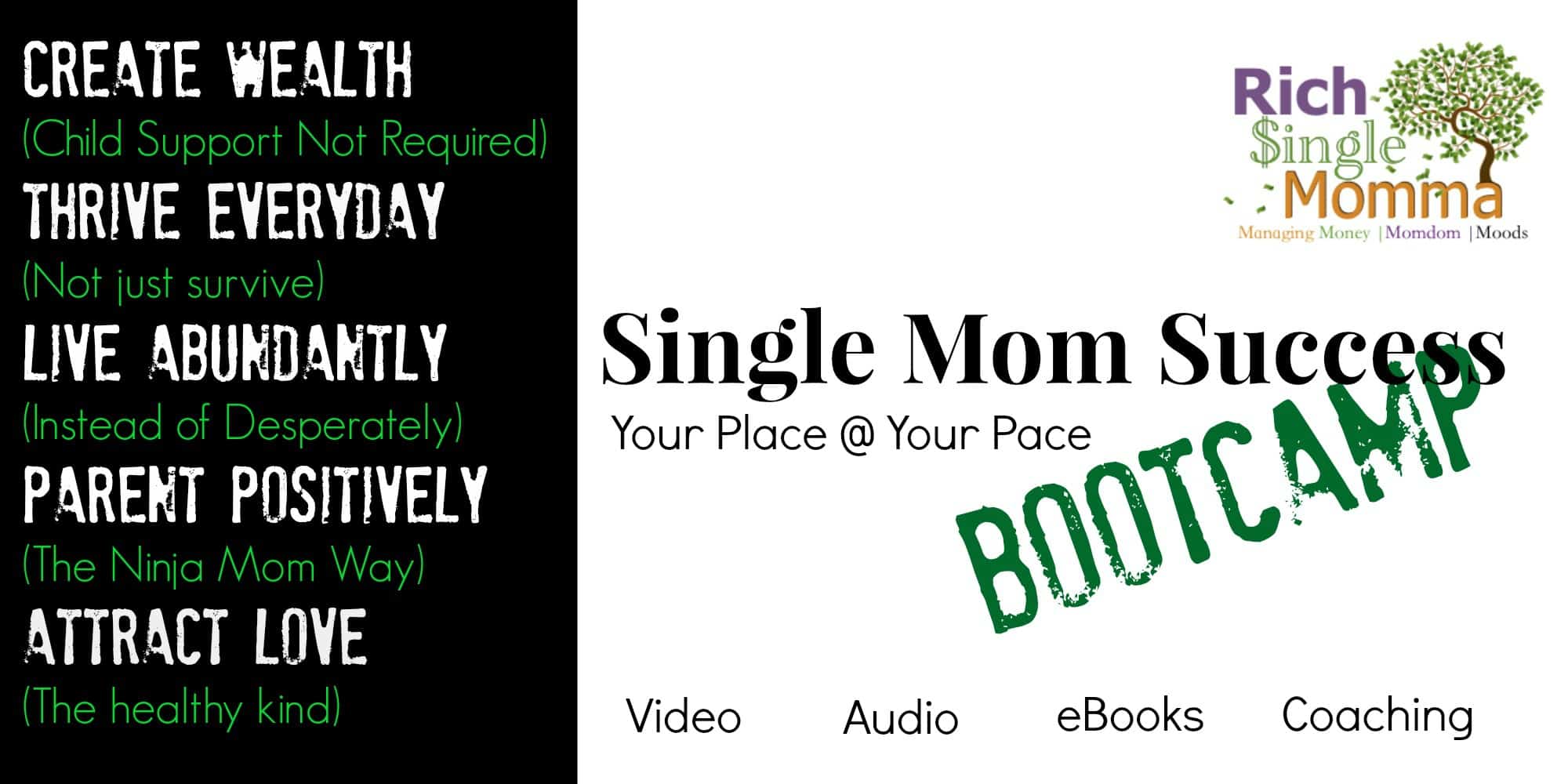 Single Mom Success Bootcamp Pre-Enrollment is Open Now!
Begins September 1, 2016
Click to Join
20 Years Ago a Single Mom Was Born Scared
It was 20 years ago I that had my first child. A beautiful daughter who, honestly, wasn't planned. I was unmarried, scared, and struggling to figure out how I was going to make this little person's life the best life possible. How was I going to be a single moms success?
A few years later I had a my second child. A son. Now I was really freaking out. How was I going to have enough time, money, but most of all love for this second child?!?!? I had to figure it out. I would not fail them. I would be a successful single mom if it killed me.
20 Years Later – Single Mom Success!!!
Fast forward 20 years and I can look back over my journey and see the failures, heartbreaks, and triumphs. It was pretty touch and go at some points but I did it.
I made it through some of the toughest nights, deep depression, intense financial struggle, dealing with my baby daddy (or not), moving to new cities, getting newer and better jobs to support my family, going through college and grad school to improve our lives, starting a business (and a blog), writing a book (or two).
It was all because I made a decision and commitment to seeing it through. I was determined not to be a run-of-the-mill statistic. I was determined not to struggle financially, be on the streets, be on welfare, or give in to bitterness and anger at my ex.
What Does
Your

Future Look Like?

Where do you want to be in 5, 10, 20 years? What do you want to look back and see on your journey? What do you want to write in your memoirs or journal? Will you celebrate your success or look back with regrets? Are you already looking back with regret? What do you want to do differently?
Join the Single Mom Success Bootcamp
Who is it for:
Single moms who are self-motivated, positive, and hungry for success
Single moms who are getting back on their feet after separation or divorce
Single moms looking for ways to make extra money to tide them over during the month
Single moms who want encouragement and motivation both emotionally and financially
Single moms who need help making better financial decisions now and in the future
Single moms who are ready for change and can commit to actively participating in their success
Single moms who want to build a legacy for their children
You will get the following programs inside the Single Mom Success bootcamp:
Goodbye Broke Hello Prosperity Module (Create Wealth, make extra money, transform your money mindset)
Single Mom Thriving Module (Self-care, self-love, dreams rebooted)
Singled Out For Love Module (Sex, Dating, Relationship Success)
Ninja Mom Module (Powerful parenting, raising successful kids without going insane, loving them without losing you)
Bootcamp Fee:
Joining the bootcamp is easy and affordable. I could charge $500 or $1500 for the value you will get each month but I want it to be accessible to as many positive and purpose -driven single moms as possible. I'm even offering a monthly payment plan and partial scholarships for those who really need the assistance (Click here to apply).
There is no excuses for not taking advantage of this program right now. I can't guarantee that it will stay at this price because I will be adding more value over time. Get in now and you will have access for a lifetime! You will be able to take advantage of all the updates for as long as you like.
To join pay only $250 Year or $25 month
Membership includes:
Access to Modules
Monthly Group Call Strategy Session
Monthly Q & A
Quarterly Webinars
Quarterly Digital Magazine
Private Facebook Group
Discount 1:1 Strategy Sessions
Quarterly Rich Single Momma E-books
Click the button below to enroll
Join the Bootcamp (Pre-Enroll)
Program Begins September 1
Join Now