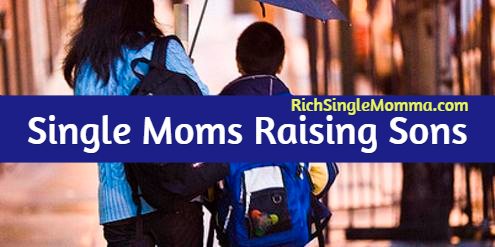 Being a single mom and raising a girl is a no-brainer. You're a girl. She's a girl. No problem. But what if you have a boy? How do you raise a son without a father? Recently I asked few experts how single moms can handle raising boys. They shared this advice…
The Experts Speak
Author and Certified Dream Coach™ Speaker
I am a Certified Dream Coach and mom. My #1 tip to my Mom's Solo clients is simply this: Do NOT try to be the man in your son's life. Be the model of the woman you hope he falls in love with and has your grandchildren with someday. But don't try to father him. Your son does need a man in his life. It may not be his dad, but the things our boys learn from other men are just as valuable and necessary as the things they learn from us as moms.
Tara Kennedy-Kline,
Author of Stop Raising Einstein
Certified Dream Coach.
stopraisingeinstein.com
---
Parenting Specialist, Author, Counselor, Speaker
It is the connection between the child and parent, male or female that provides the foundation a boy needs. Our culture is steeped in male entitlement, so parents must work hard to support their sons in ways that our culture does not. Single moms should start early. Don't accept the "boys will be boys" when they use their aggression on others. Make sure that boys have strong male influences in their lives– teachers, coaches, uncles, friends, etc.
Bonnie Harris
Author of When Kids Push Your Buttons
bonnieharris.com
---
Early Childhood Educator
 I am an early childhood educator (9 years) and a mom of 2 boys. Here is my tip: Take your sons out on regular dates. Use this opportunity to teach them things like table manners and basic etiquette. Have real conversations with them.
Crystal Paschal – momforless.com
Family expert and father of 8
Look outside of your heart and into the community around you for the type of man that you would like your son to grow up like. It might be a school teacher, an uncle or the guy who cuts your son's hair.
When you find the right candidate for a role model, approach them and be candid—tell them you respect the way they live their life and you would like them to mentor your son in the ways of life. Be clear you do not want to be involved and just want to give your son someone to look up to.
Troy Dunn
The Locater, Family expert for Dr. Phil
troythelocator.com
Author, Coach, Consultant
Obviously a mom cannot be a mom and dad at the same time. Having responsible male mentors as part of the boy's life helps compensate for not having a father in the home.
Dr. Richard Horowitz
Author of Family Centered Parenting
growinggreatrelationships.com
---
 Licensed Marriage and Family Therapist
Single moms should identify target behaviors that are indicative of being responsible young men. This may include respectful language, polite tone, following directions, and other helpful behaviors. Mom should model and explain to their sons what this behavior is. Moms can limit inappropriate behavior by setting limits. Behaviors to discourage in young men might be back talking, swearing, lying, aggressive behavior, etc.
Carrie Krawiec, LMFT
birminghammaple.com
Writer, Editor, TV Host, Speaker
While you want your son to be responsible, you don't want to place an undue burden on him either. Too many moms (and outside individuals, such as grandparents) tell a son, in the wake of a divorce or death that he is the man of the family now. He may need to shoulder responsibility for some chores his dad undertook, but he should NOT be saddled with ALL of them and CERTAINLY NOT with the heavy mantle of responsibility that come with being the man in the family.
Cynthia MacGregor
Author of Daddy Doesn't Live Here Anymore
cynthiamacgregor.com
Child, Couple and Family Psychotherapist
As the 90210 child psychologist expert I can tell how it really is living behind the line of fire. I hear from kids and families every hour.  Boys need a father or male role model to help the boy make a full identification as a male, in order to fully say; I am that…..I want to be like him.
Dr Fran Walfish
franwalfish@gmail.com
DrFranWalfish.com
Board certified Family Physician and mom of four
Ask your son who he thinks of as a male role model, and ten characteristics of a good man. Then ask him how you can help him to learn those skills. Make developing those traits a spoken part of your goals for him, and praise his demonstration when he does any of those characteristics.
Deborah Gilboa, MD
askdoctorg.com
"Many of the troubles young people face would be eliminated with the establishment and execution of rules. Rules loudly scream care and concern. Rules provide stability and tradition" The best way to enforce rules is through chores. Chores keep them mentally busy developing a strong value system.
Excerpted from the book, K.I.S.S. Begins at Home. Boys need a firm hand to become responsible whereas moms often baby their sons.
Ida Byrd-Hill
Founder of Uplift, Inc
Ida@upliftinc.org
upliftinc.org
The number one tip is to be consistent in your discipline. This is easy to say you will do, but it can be very difficult to actually do. The relationship between a child and parent is a battle of wills. Who ever has the stronger will will win, and this is a battle that a parent CANNOT afford to lose.
Mark Horner
Antibully-ing.com
Author and Mom of 2 boys
It's important that moms create a safe space for boys to feel comfortable to share and talk. Help them see the value in communicating their feelings. With more than 15 year's experience and current history of providing training and development services with leading Fortune 500 companies, I am a Certified Breakthrough Parenting® Instructor and Intrinsic Coach® in Health and Wellness. I've helped numerous moms of boys navigate the challenges of raising sons, especially the adolescent years.
I am the Founder of Raising Great Men™-Real talk about raising boys to become men of character and Empathy not Apathy™-a movement to address boys' desensitization to violence. I coach moms to guide their sons as they journey from boyhood to manhood.  I also speak about the challenges of raising a family during military deployment (My husband's been deployed three times!)
Marie Roker-Jones
Author of Raising Great Men
raisinggreatmen.com