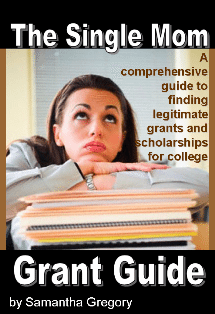 The other day I overheard a woman complaining about being tired. She had just ended another shift at work and was dog tired. She talked about her kids at home and, though she tried to be brave, I could tell she was miserable. She had been in college last semester but was now working two jobs to make ends meet. She told her friend she was going to go back to school because she just couldn't see killing herself like this for the rest of her life.
This young woman is like many single mothers out there who are working two and three jobs to make ends meet. She is like the millions of moms who work for pennies just to keep food on the table.
I have many single mom friends who struggle to pay the bills, avoid calls from the collectors, and cry every night because she can't buy her child new shoes.
She dreams of going to college to start or complete her degree. She dreams of working just one job that will pay all the bills and have enough left over for a little nest egg. She dreams of giving her children everything they need and most of what they want.
I was this single mom too. After I had my second child I was terrified of forever having to work at dead end jobs and making a couple of dollars over minimum wage.
The thought of being on government assistance until my children left home was even more sickening. I knew the people who processed my applications for housing, food stamps, and Medicaid were happy to make me miserable and follow the hundreds or rules that required them to pry into every area of my life. Short of doing a full body search, they would strip me of every ounce of dignity I had.
Like the young woman on the train, my only option at the time was to go back to college and get the training I needed to enter the professional world and get paid the money I needed to take care of my two young children.
Working myself to death was no longer an option. I could no longer avoid the harsh reality I faced as an uneducated single mom. Sure, I could make a way to survive and live each day for the next dollar. I could be one paycheck away from disaster and homelessness.
Going to college was my only hope, so I packed my bags and moved to a new city. I enrolled in a program that would lead to a degree in 18 months.
I applied for financial aid and grants to pay for my education. I used other people's money to finance my education and you can too!
We've all heard about the grants and scholarships out there for people to go to college but without good research skills it seems impossible to find that money.
If you are not fresh out of high school it seems there is no money for the rest of us. It seems impossible to get an education without taking out thousands of dollars in loans.
But there are options for adults returning to college and single moms who want to make a better life for their children. With a lot of digging and research I have found grants and scholarships for single moms.
I want to share this information with you so you will not have to struggle like I did. I don't want you to be saddled with a huge debt load when you are finished with college.
The Single Mom Grant Guide is one of the best resources you will find for navigating through the process. This guide will explain the truth about grants for single moms, where the money is, how to apply.
It will also give you information about choosing the right college, the best career, and best of all, balancing it all.
You won't have to worry about picking through hundreds of dead end websites that promise you a pot of gold at the end of the financial aid rainbow.
Here is what is included in The Single Mom Grant Guide:
Answers the questions, "Are there grants for single moms" and "Where can I find grants for single moms"
Tells where to find grants and scholarships for a single mom's education
Extensive list of actual grants and scholarships for single moms, women, nontraditional students, and minorities
Direct links to websites and scholarship applications
Techniques for finding grants and scholarships
Comparisons and contrasts of attending a brick and mortar school versus online education
Describes the benefits of going to college online
Helps single moms decide if going to college or back to college is right for them
Demystifies the process of choosing a school and applying
Describes the different levels of education and the types of schools that offer the credentials
Summarizes the income opportunities that come from getting a college education
Provides tips on how to balance college life and single parenthood
Explains how to get the best childcare, housing, and income while going to school
Written exclusively for single moms after receiving so many questions about how to find grants
The only book of it's kind on the market
I got several emails the other day from people who read The Single Mom Grant Guide and they said I could share them with you:
I found this book to be a quick and interesting read, with great resources, questions, tips and tricks to navigate you through trying to go through what can seem like an impossible task. Although this book is geared towards single moms, it has information and resources that are valuable to any college grant seeker. There are more options than you think out there, and this book will help you find them. I'm definitely recommending this book to everyone!

~Veronica

I want to first thank you from one single mother to another for taking the time to put together a guide that's so helpful. I myself made the choice last year to go back to college. I'm at the point where I'm so tired of killing myself working two full-time jobs to make ends meet. In making the decision to go back to school. I also had to cut back my hours taking a serious pay cut. I've had to make a lot of sacrifices, but in the end I know it will all pay off when I have my nursing degree.

In reading the guide it made me take a look at even more things I could sacrifice to keep a float while I'm in school. The volumes of information provided was awesome. Even made me realize I need to swallow my pride and receive some government assistance, especially if I can qualify taking the burden off me some financially. It was also surprising to see the number of different scholarships. I have applied and received a couple when I first enrolled in school. I'm definitely going to take advantage of the list and apply to as many as I can. 

Kudos to you Samantha! There was so much pertinent information. I would definitely recommend this guide to anyone that's serious about going back to school to continue you education. You won't be disappointed. 

~Dana

I really enjoyed reading your book.  It was very informative. 

~Staci 

Your new guide for single mothers to attain their educational goals is excellent.  Your approach to makes everything understandable and gives the reader a variety of options.  I believe that this book is relevant and very useful to any single mother who would like to go to college.

~Lesley
The decision to go to college is pretty easy when you think about what's at stake. Choosing to work dead end jobs or working two and three jobs to make ends meet compared to working one job or even starting your own business makes the choice to go to college a no-brainer.
Paying for college is usually what stops you though. How are you going to pay for college and take care of your children? How are you going to pay for books and childcare? These questions come up and seem overwhelming when you don't have the answers.
But with The Single Mom Grant Guide your questions will be answered. You will have a clearer understanding about what it's going to take to find the money for college and live your life with as little stress as possible while you are there.
This guide won't cost you a week's groceries or even a tank of gas. It will barely cost a night out at the movies with your kids.
Having a better life for your kids, without the pressure of wondering where the money will come from squeezing the life out of you is as simple as reading The Single Mom Grant Guide.
A trip to the grocery store could easily cost $100-300 dollars. A tank of gas, with the high cost these days could cost you between $25-50. To see the latest blockbuster movie at the theater with popcorn and soda will likely cost $30-50. Getting your nails and feet pampered will probably cost well over $25.
In light of these expenses, investing in your financial and educational future by reading The Single Mom Grant Guide is a steal! To read this guide now, you will not have to drive to the bookstore and search through 20 college money book. You will not have to pay for shipping and wait for this book to come in mail.
You will not have to painstakingly type the grant and scholarship urls listed in guide into your web browser and get frustrated because you missed a letter or symbol. The links are active so all you do is click them.
To get information like what's in The Single Mom Grant Guide you will have to pay someone $500-$2500 but I am practically giving you this guide for free. Unfortunately, the time I spent researching, compiling and writing for this guide is valuable to me.
I won't charge $2500, $500, or even $50 for this guide. Instead I will give it to you for a budget-friendly price and you will be able to download this guide immediately. There is no driving, no shipping fees, and no waiting, just pure content and a lot of valuable links to the grants and scholarships that will help pay for your college education.
Grab your guide now and get the feeling of relief because your questions about how to pay for college, take care of your children without killing yourself, and balancing it all with grace are answered.
Order your copy of the Single Mom Grant Guide today and get the following bonuses:
The lady on the train may hopelessly struggle to make ends meet and be dog tired for more years than she'd want. She may have a light bulb moment and take the plunge to go back to college.
The difference between you and her is you have to opportunity to change your future and create the life you have always dreamed of. You can be the one to decide to take a different road and create a destiny designed by you.
Instead of eating beans and rice or Ramen noodles for weeks at a time, you could be having a healthy variety of foods each day. Instead of telling your child no to new shoes, you can ask him how many pair he needs. Instead of being afraid to pick up the phone because a bill collector is on the other end, you can rest assured that the caller is someone you do wan to speak to.
Your guide is waiting for you now. All it take is a few clicks and it will be in your e-mailbox.