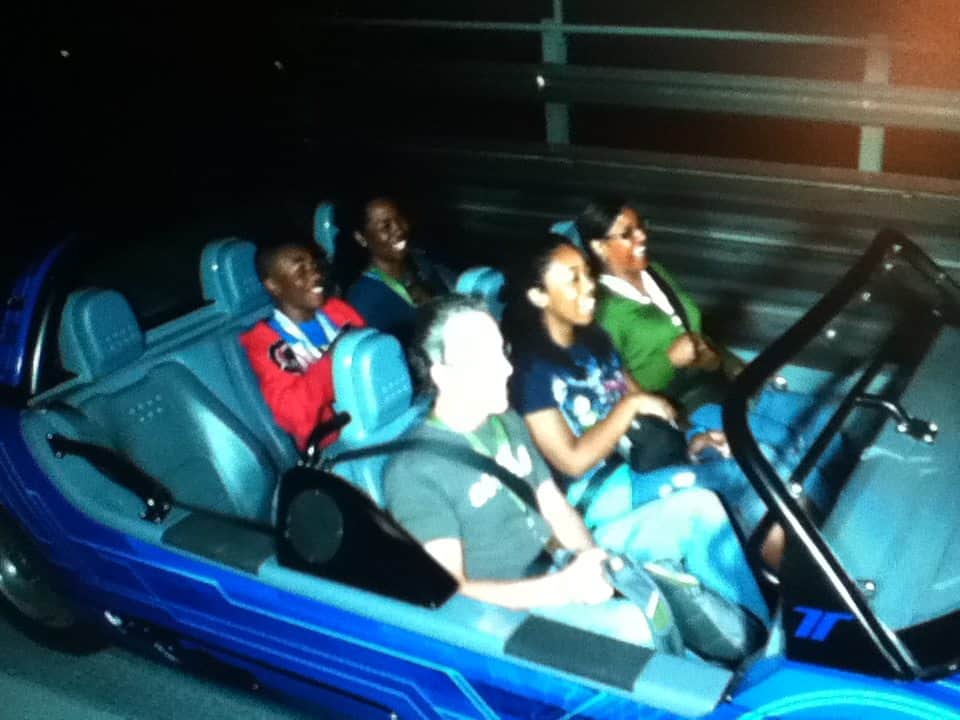 I love fast cars and motorcycle rides. I bet you didn't know that about me did you? This means the Chevrolet Test Track ride at Epcot Center was right up my alley. An exhilarating ride! That is how I describe Chevrolet Test Track at Disney.
I didn't know how fast we would go at the beginning of the ride so it was a pleasant surprise at the end. I won't give it all away, but I'll start from the beginning and give you the highlights.
Start with designing your own car in one of two design centers. You can do a quick design or take your time and design the car of your dreams right down to the chrome wheels.
Next you get in the queue to test the design. The test station is a 6-car ride that takes you through several tests to determine if your design will hold up to slippery rides, bad weather, or unexpected road hazards in a simulation. The last leg of the test is where the exhilaration comes.
According to Disney:
"The sleek new "Chevrolet Design Center" invites guests to create their own virtual custom-concept vehicle.

"Car designer wannabes get to shape their own virtual car, truck or crossover and learn how their choices perform against four important performance attributes that guide Chevrolet designers:

Capability – design your car to handle the roughest roads or most extreme weather conditions
Efficiency – create a car that saves on fuel, reduces your environmental footprint, cuts down on emissions or even uses recycled parts
Responsiveness – choose elements that will give you easy maneuverability through the tightest of turns
Power – choose the gear you need to make your car a racer or a hauler

"At design kiosks, rows of touch screens become canvasses for guests to try their hand at automotive design. They can design alone or collaborate on their design with family and friends. Even choose from six different languages."
If you love fast cars you will love this part! Your test car speeds up to 60+ miles an hour on an outdoor track that curves and dips then screeched to a halt at the end. Your design is rated at the end and you can see how it ranked against other designs.
If you love fast cars or just love going fast in general you will love this ride. At the end you get to check out the new Chevrolet cars. Taking pictures by them was not too good because of the lighting but you can see my kids were enjoying them anyway.