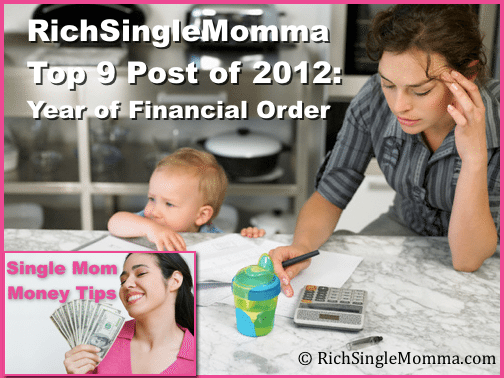 This year on RichSingleMomma I tried to focus more on the financial side of single motherhood. It can be ugly sometimes but it doesn't have to be a permanent state. With planning, budgeting, and a little ingenuity we can turn things around.
Here are the top 9 post on the website. Most relate to money but there are a few other top posts in there too. Click the titles to read the posts.
This is pretty self explanatory. I highlighted 7 free budget worksheets for single moms to use. Getting your money under control is top priority if you want to see more in the future.
This post has been a the top for a while. Let's face it, sometimes we hate being single moms but it's not because of the kids but because of the bad wrap we get in the media, the crazy remarks of family, friends, and stranger too. Check out what makes me the craziest about being a single mom. Don't judge me 😉
A single mom wrote me needing advice about how to get some quick cash. In this post I shared a few ways she could get some quick cash. You might find a few ideas to help you in a crunch.
Another post about making quick money if you have more month at the end of your regularly earned money.
Sometimes we have to sell stuff to get cash in hand. This post lists 15 ways you can do that by selling your stuff. Sometimes we have to part with cherished items until we get back on our fee.
This is one of my favorite posts. I've seen it time and time again. Single moms gripe, complain, incarcerate, and malign their baby's father for not paying child support. Sure it's hard and it's unfair, but to live in a state of constant fighting is not the way to get what you need. I am suggesting a better way to get your needs met.
This post is about me and my kids going to the Disney on Ice event. It was fun and a blast to see all the Disney Princesses. We got to see them all again at a recent trip to Disney World too.
This post is a backup post to the Ignore Deadbeat Daddies post. It's for single moms who are new to the game because they got divorced, their husband passed away, or they were deserted by their boyfriend. The goal is to help them (and you) see that you can become self-sufficient and financially independent even though you are a single mom.
Raising a kid on $12k a year seems impossible, but with a lot of creativity and using the resources around you it can work. This post is about how to budget your money when money is very tight. I did it and you can too!
Well those are the top articles on RichSingleMomma.com. Go read them if you haven't already and leave a comment if you have already read them. Share them with other single moms you know and come back to see what's in store for next year. I'm declaring 2013 The Year of Living Fearlessly and Fabulously. I hope you will make that the theme for your 2013 as well.