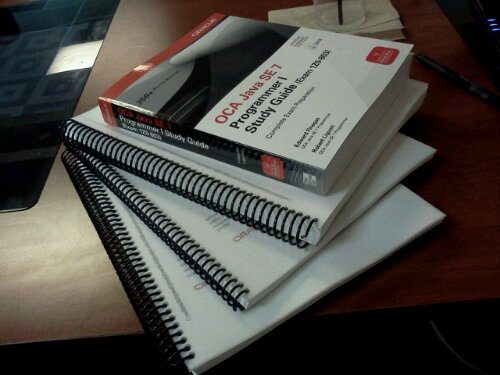 Well I'm back in school and I'm loving it (no this is not a McDonald's commercial)! I just love learning and I love it when my learning increases my earning potential. This photo is of the books I am using for my Java Programming course. I will be a certified Java Programmer after I finish the class and take the exam.
Are you wondering why I'm taking Java programming of all things? Welp, it's for a couple of reasons. First because it's the foundation class for the mobile application development course I'm going to be taking. Second, because it's FREE!!! Yep, I said free. I'll get to how that's possible a little later. But first let me answer why I'm taking this class after I've published a book which should increase my earning potential.
I'm an IT Geek So I Say It Loud and Proud!
I love ideas, I love graphic design, and I love technology. I'm an IT (information technology) professional in real life so this is a perfect fit for me. I will be designing mobile applications (the kind you have on your smart phone) once I complete the course. Developing mobile apps will make me giddy with happiness because it combines all the things I love. Plus, I get to earn a pretty penny (or lots of pennies) on top of that.
The Earning Potential is Phenomenal
How much? Well let me put it this way; it is rumored that ESPN paid $100k to get their Fantasy Football app created. That is not chump change. The average app cost anywhere from $5,000-$10,000 to be developed. This is for a custom app. So for me, the earning potential runs in the six-figures if I develop apps for medium to large companies. If create my own apps the earning potential is greater because I get all the profits. Some app developers are earning millions…you remember Angry Birds don't you?
How I Get to Go to School for Free
I am confident my education will pay off in huge dividends. The best part is I get to go to school for free. I bet you were waiting for that part. Well a few months ago I wrote about losing my job. I was out of work for a year and collecting unemployment. Each week I had to submit my report so I could get the check. One day I was on the DOL (department of labor) website and decided to look into training.
I called the office and got information about the WIA (Workforce Initiative Act) training programs. I was told I may be eligible for the program and to show up at the designated place at the designated time for an information session. I went and had to complete paperwork as well as turn in other information.
That was in June or July of this year. I was told it would be a while before I knew if I was accepted because funding had to come in from the State. Getting accepted into the program meant I could choose a school and the State would pay all expenses including books and certification exams. The point is to get people on unemployment back to work by upgrading their skills.
Back in School for a Short Time to Earn More Money for a Lifetime
Long story short….I got accepted into the program. I chose the school I wanted to attend and started more paperwork. The school I chose encourages their students to start their own business so they have a session to teach and provide entrepreneurial skills. So here I am, back in school for about a 4-6 weeks to learn Java programming and mobile app development. I will get my certification and begin a new career path that will net me more money as I continue to journey toward financial freedom.
The moral of the story? Never stop learning!
Are you back in school? Do you have a technical certificate or degree?
How do you plan to increase your earning potential in 2013 and beyond?